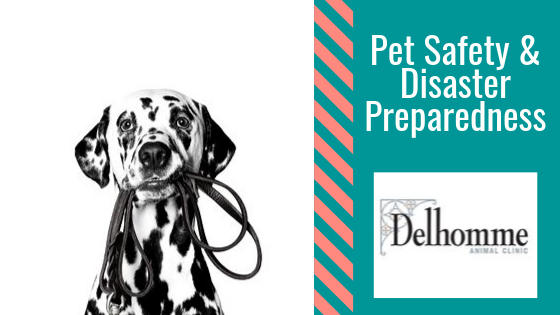 With all the stress that comes with a big storm, it's hard to make sure that you have everything you need to keep your furry family safe as well.
The Delhomme Animal Clinic team is here to help you assemble your own disaster pet preparedness kit. If an emergency or bad weather forces you & your pets from your home, you will need to know what to bring.
1. Kennel or Carrier
For small cats & dogs a soft sided carrier is recommended, for larger dogs any portable kennel that can safely house your pet. Please make sure all kennels are clearly labeled with your information, emergency contact information and your pet's identifying information. We also suggest having a pheromone spray to decrease your pet's stress. Find the one for you at our online store.
2. Food, Water & Medications
It is recommended to keep a supply of pet food that will last two to four weeks in a resealable container, as well as bottled water. If your pet is on medications, keep at least a two to four week supply in addition to routine flea and heartworm prevention on hand at all times during hurricane season. Not only can you Request Refills from our website, but you can order Hill's and Purina food directly from the manufacturer and have it shipped to your door.
3. Vaccination History & ID
Be sure that your pets are up to date on all vaccinations and have proof with you. At minimum, each pet should have a collar & tag with name and contact information. Microchips are strongly recommended, as natural disasters can separate a pet from their owner, and a microchip may be the only way that authorities can reunite pets with their families. Download the PetPage App to keep your pet's records in your pocket; iTunes Google Store
4. Bedding & Clean Up
Don't forget small trash bags for stool disposal, as well as towels or newspaper for crate lining. Animals such a cats, ferrets, birds or small rodents will need a litter box and litter or bedding.
5. Basic Supplies
Pack leashes for dogs, food & water bowls, extra name and contact information labels for all pets and a pet first aid kit. For exotic pets, bring their whole habitat including heat lamps and extension cords.
6. Packaging
Having supplies in a sealed storage container will make it easier to keep belongings safe, dry and organized.
You can find more information in the video below or at the following links:
Louisiana State Animal Response Team
Pet's Welcome – Pet Friendly Hotel Search Engine
Fema.gov
The American Red Cross