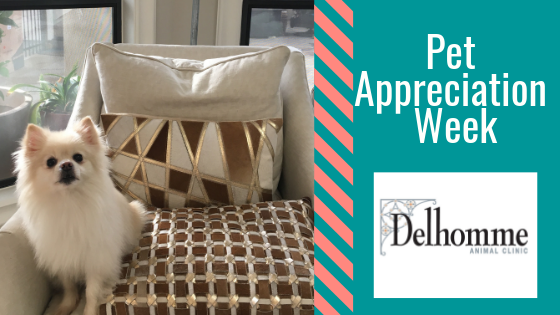 Ask any of our pets and they'll think EVERY week is Pet Appreciation Week, but we are going to kick up the celebration this week with our top 5 ways to celebrate Pet Appreciation Week.
1. Quality Time
Our doggos and cattos' favorite activity is hanging out with their favorite human! So put the phone down, grab a leash or a feather toy, and enjoy your furry friend.
2. Dial Up the Snuggles
What critter doesn't love a cuddle? So snuggle up, use those "Good Boy"s freely and hand out all those pettings they deserve.
3. Learn a New Trick
Grab the treats, pick a trick and get to learnin'. Teach the kitty how to high five. Get the dog to roll over. You can even teach your guinea pig to hop though a hoop!
4. Pampered Pets are Happy Pets
Steamy baths, massages, hair brushing, facials – they're not just for humans! Head to the groomer or set up an in-home spa to make Fluffy feel fancy.
5. Treats! Treats! Treats!
Not only will you pet appreciate the extra foodies, but you can even up your treat game with frozen green beans, bakery treats (from your kitchen or the pet store) and even roasted sweet potato!
(Worried about special dietary needs? Check with your veterinarian before adding new foods to your pet's diet.)
The most important thing – Enjoy this special week with your devoted fuzzy best friend.