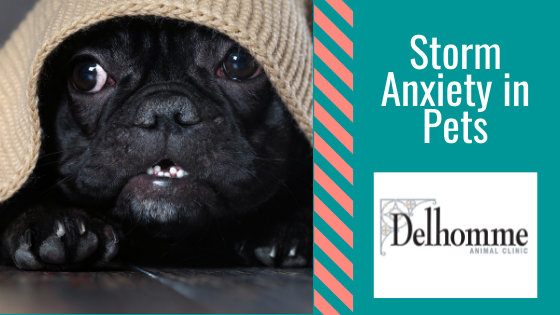 Here in South Louisiana there is no shortage of thunderstorms, and for many of our pets that causes some pretty extreme anxiety.
If you notice your pet whimpering, hiding, following you from room to room, trying to snuggle or even trying to escape – then your pet is exhibiting signs of fear and anxiety. As pet owners, it's our job to provide a safe environment for our fur-fam but how do we do that when the source of fear is Mother Nature?
Here a few tips to help.
Close curtains and windows to block out flashes of lightning.
Turn on some soothing music to keep the sound of heavy rains & thunder to a minimum.
Stuff a Kong or other puzzle toy with your pet's favorite treat to keep them focused on snacks instead of weather.
Purchase a Thunder Shirt for your pet. (Find these at our Online Store)
Call your veterinarian to ask for Help! There are medications that are safe & effective to give at home.
Many types of anxiety can be treated before your critter begins the downward spiral into panic, with long term or episodic medications and even all natural supplements. We are here to help keep all our sweet patients happy and healthy.