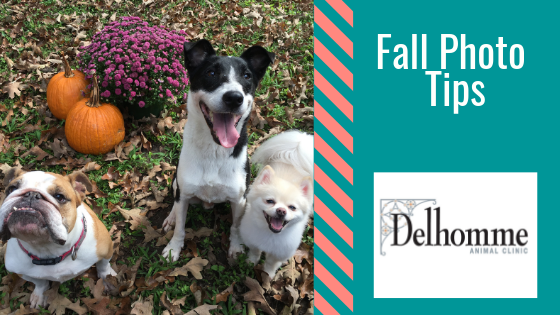 If you're anything like me, you love taking pictures of your pets. I love showing everyone the adorable faces of my furry best friends, and the one million cute things they do EACH DAY. What better way to showcase these beautiful critters than with seasonally appropriate photo shoots?
During many a late night fall down the Pinterest-rabbit-hole, I have found so many step by step tips for how to take the best photos of your pets. Here is what I have learned;
Professional pet photographers ROCK. They are unbeatable at capturing Nat-Geo worthy photos of pets.
Photoshop is magic.

Lighting and backdrop set up is out of my league.
If a professional photographer is in your budget – go for it! Get those photos printed on a huge canvas and hang it in your living room so your pet knows how worshipped they are. They deserve it.
However, if it's not – don't fret. You can still get some pretty cute photos on your own. All you need is a smartphone camera, some fall themed props, yummy treats, a favorite toy and the world's cutest pets.
My assistant (ahem – daughter) and I spent a couple hours one weekend taking pictures of our pets. We had a couple pumpkins, a pot of fall flowers and a backyard full of leaves. (Sorry Husband, I can't rake those up. We need them for dog pics!) Don't have any pumpkins? Head to the park and use their trees as a backdrop. Have a neighbor with a beautiful garden? Ask them if you can snap a few pics. (Just don't forget – if your pup has to relieve himself away from home, pick it up and throw it away!)
We used high value treats to get their attention, and snapped away! Play around with perspective, take photos from a standing position or from down at their level. Spend some time running around with dogs to get that smile going. Experiment with the lighting at different times of the day; we have all heard of the golden hours right after sunrise or before sunset. All in all we took over 150 pictures and about 4 of them were instagram material. #worthit
What about the kitties? Yes! Cats too can take fantastic fall pics! Our cats are indoor only, so we brought one of those pumpkins inside, grabbed the kitty treats, opened all the blinds and started our photoshoot. Was it more difficult than photographing the dogs? Yes. Did we giggle a lot at the outtakes? Also yes.
My daughter and I are still not professional photographers, but we did spend some quality time with our pets, we had a blast, and we have some lovely memories that will last for many, many years. Take a peek at our efforts below, and don't forget to share your photos with us!
Want to schedule a spa day for the pups before you play paparazzi? Call 337-442-6303 or schedule online HERE.