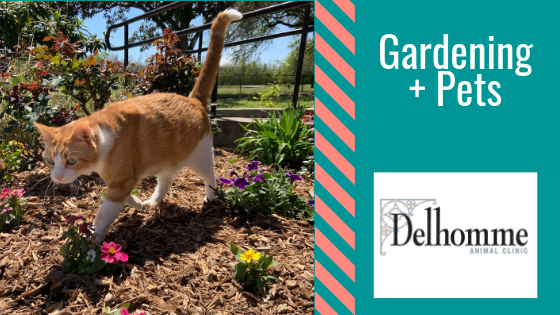 Sunshine! Cool breezes! Rows and rows of flowers at the local nursery!
Spring is here and WE LOVE IT! If your house is anything like mine, your pets "help" you plant, mulch & water. (Sometimes, when they're especially helpful, they will even dig holes!) How can we make sure our little ones stay safe in the yard?
You may have heard us say that Sago Palms are a BIG no-no for dogs, (they cause liver damage and sometimes even death) but do you know what other common plants are no-goes? Or what plants are safe for our furry friends? Let us help guide you to the flower beds of your pet's dreams!
Top 5 Toxic Plants Common in Acadiana
Sago Palms
Azaleas
Lillies: Easter, Stargazer, Tiger etc
Castor Bean
Foxglove
Oleander
Top 5 Pet Friendly Plants
Catnip
Basil
Sage
African Violets
Cat Grass (usually grown from wheat, barley or oat seeds)
…And Of Course
Don't forget to keep kitties, dogs and kiddos away from any gardening chemicals!
Need a distraction for a particularly nosey gardening apprentice?
For the pups in your life – a Kong toy filled with frozen pup-sicles is our favorite way to redirect attention. Kitties causing chaos? Catnip plants or Fishbowl Toys can keep them busy. BONUS: you'll be entertained by their antics. Find puzzle toys for both species from our Home Delivery Service.
Worried your pet got into one of these? Call or click HERE to schedule an appointment.