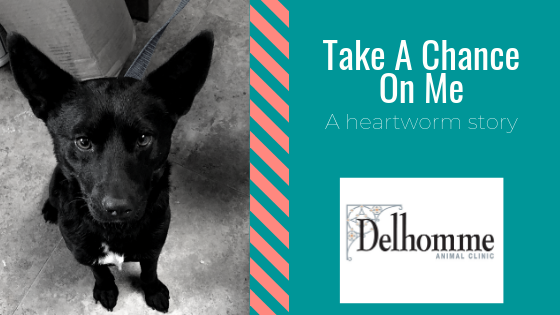 As a veterinary technician you get to help heal, comfort and care for the family members of so many clients. Each day can be a mixture of joy and grief, as you welcome new puppies or say goodbye to old friends. What you may not know is it's not uncommon for any member of the veterinary community to own a handful of special needs pets. Missing limbs, chronic diseases, behavioral problems or pets labeled "unadoptable" can find a devoted owner in vet tech's everywhere.
Our very own Hanna recently wandered into a local a shelter with her husband Tyler, staring at the hopeful faces of so many dogs, finding herself drawn to one in particular. Ears for days, big brown eyes, a spunky attitude and Hanna's heart was a goner. He was 22lbs full grown, and was diagnosed with severe heartworm disease. They started calling him Chance.
One of the worst things about working in veterinary medicine is that you are more than aware of WORST CASE SCENARIO for heartworms. Despite that knowledge, Hanna, Tyler, and their young daughter Addilyn made space in their hearts and home for Chance. He knew love, he played with toys, he ran in his very own backyard and he even had a pack of dog-friends to get into shenanigans with. Four months into his new life, Chance's heart, full of love and heartworms, gave up.
Heartworms break hearts. Heartworms cause pain. Heartworms end bright sparks of life before their time. Sometimes the fight against heartworms feels hopeless. Through her grief, Hanna has become a strong advocate for heartworm prevention. Hanna and the whole Delhomme Animal Clinic team is here to support you & your pet, and we'll work together to keep you from the pain of losing your pet to a preventable disease.