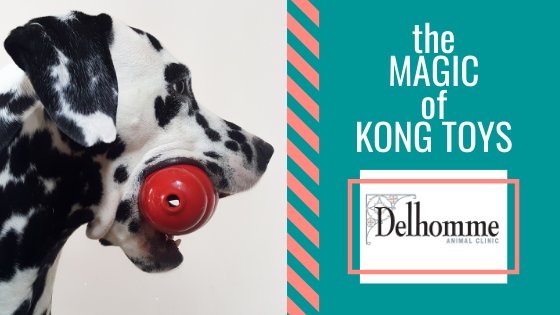 The benefits to learning new tricks and working on training your pet are basically endless. Dogs and cats are smart, and love using their brains while spending time bonding with you. Sit, stay, walking on a leash are all important for safety, and playing dead is always the cutest party trick but what about those rainy days when you can't get outside for a walk or mornings full of soccer games and birthday parties that leave your pet home alone and bored? A little bit of planning and Kong to the rescue!
Kongs are hollow snowman shaped rubber toys that come in all sizes. The magic happens when they are stuffed with a yummy treat for your pet. Chewing a food-stuffed Kong is a self-rewarding activity. That means whatever behavior or enrichment you're using the Kong for is automatically rewarded. A Kong stuffed with something yummy can be used:
During anxiety triggers to create positive distractions (storms, fireworks, parties).
For crate or bed training.
When your pet will be home alone (You can hide them around the house and yard as a fun game)
To feed meals, especially for those pets that eat too fast.
As a bark deterrent for noisy pups
To coax a fussy eater
To help settle down after excitement
…and more!
Let's talk stuffing… Using canned food, peanut butter or foil wrapped around the outside allows you to fill it up & freeze it. The list below are just our favorites, but if you're worried about your pet's dietary restrictions give us a call. (Have a pet on a diet? Using the Kong for meal times can distract from smaller quantities of food.)
Kong Stuff'n
Dry kibble, mixed with water or canned food or any of the options below
Apple slices
Canned pumpkin
Small treats
Plain peanut butter or peanut butter smoothies (Recipe HERE)
OraVet or other dental chews
The list of Kong stuffing options is as long as your imagination.
When first getting started, it is good to go slow. Loosely stuffed, room temp Kongs will give up the treats quickly. Once you make the switch to a frozen Kong, start easy with a smear of Kong Stuff'n over the large opening.
Ready to get started? Order your dog or cat's first Kong HERE or grab a bottle of Kong Stuff'n next time you're at the clinic.