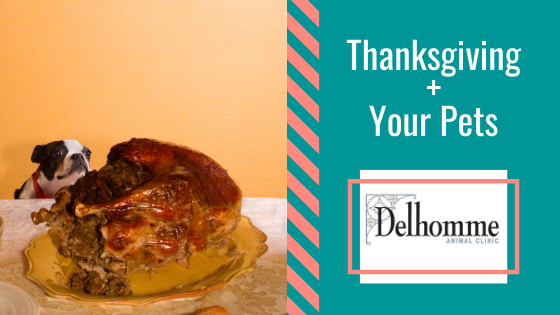 Holiday food dreams…
Turkey, mashed potatoes, stuffing, pie … the list of delicious Thanksgiving food goes on. While you're busy stuffing your face you may be tempted to give your pets some extra treats, but, there are a lot of dangers for your pet hiding in your Thanksgiving spread.
However, there are plenty of fall favorites that can be tasty (and safe) options for your dog or cat to share in small portions during holiday festivities.
Can I Share Thanksgiving Foods with My Pet?
There are a lot of foods in a typical Thanksgiving spread that are harmful to pets, but there are also many that are healthy for them.
While a few small boneless pieces of cooked turkey, a lick of mashed potato or even a nibble of pumpkin pie are all unlikely to cause a major problem, any type of overindulgence can result in an upset stomach, diarrhea or even pancreatitis.
Whether your pet gets into your feast or a family member sneaks them some table scraps, it's important to know which foods are okay for them to eat and which may result in a trip to the emergency veterinarian's office.
Dos and Don'ts: Thanksgiving Foods for Pets
Do: Turkey
As in turkey flavored dog food and treats. While a small bit of turkey may not hurt most pets, it is best to avoid emergency trips for upset tummies on a holiday weekend.
Don't: Bones
While most images of dogs conjure up the classic pairing of a dog with a bone, bones can be incredibly dangerous for pets. Bones, especially cooked bones, can splinter and crack when chewed on, tearing up your pet's mouth and stomach. Small bones and soup bones can also become choking hazards.
Do: Most Vegetables
There are a variety of veggies that are pet safe. If you're looking to add a little color to your pet's plate, broccoli, carrots, asparagus, celery, bell peppers, zucchini, green beans and cucumbers are all safe for pets to enjoy! Just make sure that they are not seasoned/spiced or cooked with onions. Want to make a separate dish just for your pets of plain veggies? Even safer!
Don't: Onions, Garlic, Chives, Scallions
Some of our favorite flavorful additions are toxic to pets. Onions, scallions, leeks, garlic and other similar vegetables are dangerous and should not be consumed.
Do: Most Fruits
Like vegetables, there are a lot of great options for pet-safe fruits. Treats like blueberries, peaches and cranberries are all safe for pets to snack on.
Don't: Grapes and Raisins
Grapes and raisins are extremely dangerous for pets and you should never give your pet these foods. Unlike other fruits, they can cause kidney failure.
Do: Pumpkin
Pumpkin is fantastic for pets! It's packed full of vitamins and is great for pets' digestive tracts. Again, avoid lots of seasonings or spices.
Don't: Sweets
Most pet owners are already aware that chocolate is highly dangerous for animals, but there are other sinister sweets out there, too. Artificial sweeteners, particularly those containing Xylitol, are potentially lethal. In general, pets shouldn't consume sugary snacks. Desserts containing macadamia nuts are also off the table, as these nuts can cause muscular weakness, disorientation, depression, tremors and abdominal pain.
Be Thankful for Health This Year
By educating yourself on the potential hazards of the holiday, you can ensure a safe and fun Thanksgiving for you and your furry companion. Even if their begging face tries to convince you that they'd be thankful for a sample of your plate, take precautions to keep your pet happy and healthy this fall.
Click here or more information and sources